Hey peeps, how's it going? I really hate the fact that weekend do passes by effin quickly even when you are doing nothing.
Oh, I don't fancy SzeChuan cuisine at all, too much peppercorn and chilli, not much taste *meh* And for someone who love spicy food, that is kinda disappointing, gimme Indian curry or Malay spiciness anyday! :D
*thought of posting the pic but since it's not that great, forget about it*
I'm listening to tons of new musix here but since I am that
laz
y, I am just going to highlight few interesting songs.
B.O.B - Nothing On You feat Bruno Mars
I believe I have profess my love for this song on my previous post. Read it
below
. I still can't get enough of it. This is like the summer breezy version of the supa sexy
Lupe Fiasco - Superstar feat Matthew Santos
. It's a compliment. BTW Bruno Mars are so so so
smooooth.
Loves.
Train - Hey, Soul Sister
I finally get this song after a few plays. OK, they do deserve all the attention but I am not too sure about their album. I don't have the urge to check it out. Wait, is it even out yet? This kinda reminds me of
Jason Mraz's
fab
I'm Yours
. It's the ukelele. I am sure.
Leighton Meester - Your Love Is A Drug
GG's Blair Waldorf 2nd single after the very sexy
Somebody To Love feat Robin Thicke.
Even though this might not be as
sexayyy
as the 1st single but it's very pop and radio friendly - a good combo, IMO if Bieber can get a hit with Baby (ugh!), this song deserve #1.
Joshua Radin - I'd Rather Be With You
This is a sweet sweet song. I love the simplicity of the guitar and the honest lyrics (ehem). I am still a sucker cheesy lyrics "
Say you want the same thing too
, Say you feel the way I do"
But am I the only one who think this song is a tad too short? BTW don't you think he's a cutie? LOL.
Salem Al-Fakir - Keep On Walking
I don't get it. I don't get it why I like this song so much but that's the truth. Guess I am just going to accept it huh? Might be too cheesy for some but definitely palatable.
Salem Al-Fakir - It's Only You (Part II)
Another song by Salem, I am warming up to this fella, his tune are my kinda cup of tea, it's hard to ignore that. This is so beautifully melodic, it's hard for me not to love it. Why no one is buzzing about this fella? Hm...
Sophie Ellis-Bextor - Bittersweet
This song gets me in the mood for clubbin', but since it's never gonna get played here in Msia, why bother. Am I the only one who love the
Freemasons Extended Mix
more? Even if its 6 mins long but still oh-so-amaze-balls. It's all about the
horns
. God Bless the horns used in this song. Orgasmix porportion. I want to move my booty listening to this song. Oh, don't you just love the MV? It's time for her to shine. She deserves it.
Xtina - Not Myself Tonight
I warmed up to this. Lots of attitude, lots of character (tough and sassy!) but not really that amazing but still great even though the opening beat kinda reminds me of C. Brown's Forever (which is way superior) but heck, how can you deny Xtina when she sang this
"The old me's gone I feel brand new, And if you don't like it fuck you!"
That sums it up pretty damn fine.
Shayne Ward - Crash
When is he gonna release a new album? I'm tired of waiting. If most of the stuff in the new album is as good as this, it's going to be fantastic :D Still a sucka for power ballads.
Gramophonedzie - Why Don't You (Radio Edit)
Not my usual cup of tea, but this is actually quite good. Is it me or the beat are quite random, that's what I think but it work for me. A update to the old school style, similar to
Mint Royale's Singin' in the Rain
. Great~
Lady GaGa - Monster
It's no big secret that I'm a big fan of
The Fame Mons†er
. This gotta be one of my faves track by GaGa. I really wish this would be released as a single but I doubt it since
Alejandro
have been officially chosen as the 3rd single and I bet
Dance In The Dark
is up next. I see this is as the continuation of
Just Dance
, whatdya think?
*He ate my heart~*
OK, it turns out I am not that lazy.
Have a great week ahead everyone.
-----

BTW, Check out
Ken and Jio's fantastic April playlist
. *freebies!!*
-----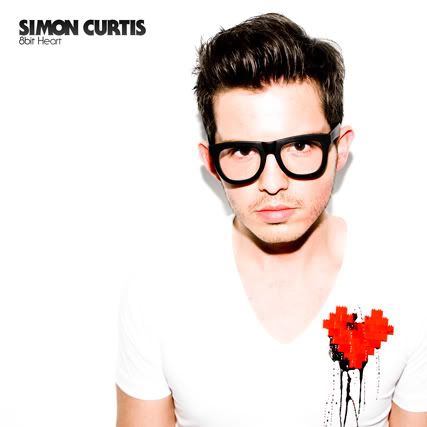 Oh, I am seriously in love with
Simon Curtis's
8Bit Heart
album. This gotta be one of the best Pop album I've heard this year.
Highlights:
Delusional, Diablo, Beat Drop,
Joystick,
Brainwash, Super Psycho Love, Fell In Love With An Android, Don't Wanna Be Alone and 8bit Heart.
(OK, basically the whole album ;)
I do appreciate
Delusional
and
Diablo
more after listening to this album where they do belong to another class on their own. The Nintendo64 (I'm a fan) reference in
Joystick
is genius, the
Bad Romance
insert in
Beat Drop
got me hooked for a replay, LOL.
Brainwash
&
Super Psycho Love
are equally addictive and not too annoying with the auto-tune over usage. BTW, am I the only who love most of the songs intro? He is one talented fella that deserve all the buzz right now. Thanks
Paul
for everything.
Fans of pop, please give this exquisite classy pop/electropop album a listen, you will not be disappointed. And you might thought freebies usually sucks. Hah, this is so not the case. I promise. Check out these
brilliant
reviews of this album from
Paul
,
Nikki
,
Mel
, &
Jio
.
Click
here
to download
8Bit Heart
for
free!
:)
*Some major recording company must be firing someone for not signing him, dumb dumb*
Thought of putting this into a separate post but nahhhhhh~
----------------
Listening to:
Lady GaGa - Monster
via FoxyTunes